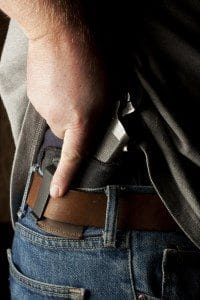 Our Florida Concealed Carry Weapon/Firearm License class really is the best deal in town. For only $49, you can take the state required course and receive a certificate of completion required for your 7 year Florida Concealed Carry Weapon/Firearm License. This class is available for Florida and Non-Florida Residents.
Here is the important information.
PLEASE DO NOT BRING YOUR OWN GUN.
Just bring yourself, a valid ID, and payment in the form of cash, a check or a credit card.
We provide the gun and the ammo. PLEASE DO NOT BRING YOUR OWN GUN. We also provide eye and ear protection which are sanitized after every use.
To complete the course, students are required to shoot, which is done on premises. We don't need to take a trip to the range unlike most other classes. Once again, PLEASE DO NOT BRING YOUR OWN GUN.
Your certificate DOES NOT expire EVER.
This class is an excellent introductory course for beginners even if you have no intention of getting your concealed carry license. It is also an excellent Safety class. Even if you are a seasoned shooter, I guarantee you will learn.
Class Cost and Length
Couples Special
Bring this coupon in to receive the couples price of $85.00 for 2 students.
Classes are $49.00 per person and last for 4 hours.
Class Schedule
Classes are generally on:
Fridays from 12:00 to 2:15 and 3:00 to 5:15
Saturdays from 11:30 to 1:45 and 2:00 to 4:15
Sundays from 1:00 to 3:00 and 3:15 to 5:00
To reserve your seat, please call Terri at (813) 210-0929 or send an email to terrisgunclasses@hotmail.com.
What to do after you have completed the class…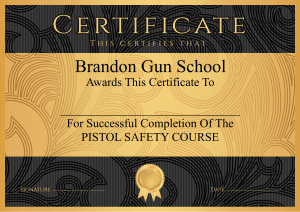 After you have received your certificate, you will need to call the Fl. Dept. of Agriculture, Tampa Regional office at 813-337-5377 to schedule an appointment. You can also schedule it online. There, you will fill out an application electronically, have your fingerprints taken via live scan and have your picture taken. You will need to bring a valid photo ID (Drivers License) and a check, money order, Master card, Visa for $97 for a 7 year license. Providing everything goes smoothly with your background check, you should receive your initial license in 4 weeks.
Months before your license expires, the Dept of Agriculture will contact you to let you know it is time to update your license for an additional 7 years. This is also done at the Dept. of Agriculture. Renewals generally run $65.00 and there is no charge for your photo. No appointment is necessary when renewing your concealed weapon license.
To sign up for any class or for any questions, call Terri at (813) 210-0929 or email me at Terri@BrandonGunSchool.com